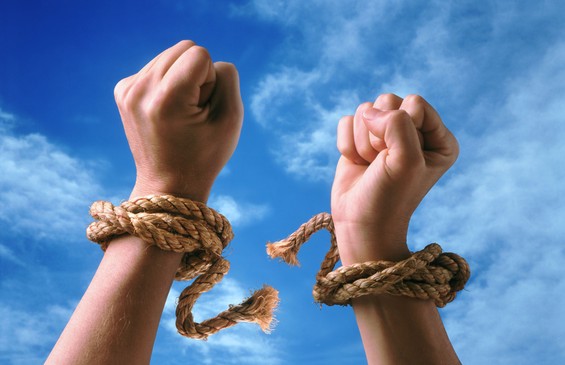 Content yearns to be free. It doesn't want to be hidden behind walls.  It doesn't want to be locked away on a site waiting for you to stumble upon it.  No, content wants to be free.  And let's be honest, you want it to be free too.  You don't want to scale walls to find the content.  You don't want to leave what you're doing to read the content.  Nope, you just want the content.  And the content wants to be found.
This isn't about pay walls. Certainly, that's one dimension of free content.  And I think many of us have already discussed how pay walls lead to less content consumption. It's not that paying for content is bad. After all, we all do it, every month, when we pay our cell phone, cable or magazine subscription bills.  The concept of paying for content will never disappear. But, it doesn't change the fact that content wants to be free and we want it to be free too.
Take HBO as an example.  For years the only way to consume HBO content was on our television sets via our cable boxes. We were forced down a path.  A path that HBO and your cable provider dictated.  Yet, HBO thrived, because in a pay for consumption world, when you have great content, people will pay.  But, as television viewership stagnated and we were given options like Netflix and Hulu, HBO needed to innovate.  Simply adding better content wasn't going to be the answer. Charging less wasn't going to be the answer.  No, in a world where HBO charges you to consume their content, they finally understood that content wants to be free.  They didn't offer to make their subscriptions free.  Instead, they tackled the other concept of free…distribution.  With HBO GO, you can c0nsume HBO's content on your laptop, iPhone and iPad.  Think about that. One service, with many options for consumption.  What's next, HBO GO via Facebook? gMail Inbox?  XBOX?
HBO understands that content wants to be free.
I was in a meeting the other day where there was a heated debate about if the content should live on Site X and be brought to you by Brand A or live Site A and be powered by Brand X.  My POV was that it didn't matter. Users, readers…the consumers of the content don't care where the content lives.  They care about having access to the content on their terms and in a means that requires the least amount of friction.  I tend to believe that a great brand is one who facilities the experience.  When you're the facilitator…the host…the brand helping customer A reach their goal, you'll win.
In a world where Facebook and Google are the places we not only start our web experiences, but prefer to stay throughout the day, the linear model of shepherding people from one site to the other to engage with content, is simply put…dying.  As a consumer first, I want content on demand. I want it where I am and when I'm ready to consume it.  Often times, that might mean Facebook or another site.  It also might mean by device…iPhone, iPad, computer, etc.
Make no mistake, content wants to be free.  But, free doesn't mean how much you charge.  It can, however, mean how your content can be accessed.