I'm not a Lebron fan. Let's just get that out of the way up front. My distaste for Lebron is about more than the "Decision." It's about the way Lebron, a millennial, has approached just about everything he's done in his career.
Where should we start? How about the nickname, "King James." Kings where crowns and lead. Up until last night when he finally won his first championship, what had he done to deserve a crown? How about the fact that by going by "King James" he draws comparisons to the bible and one Jesus? I'm not reaching. Here's the ads that back me up: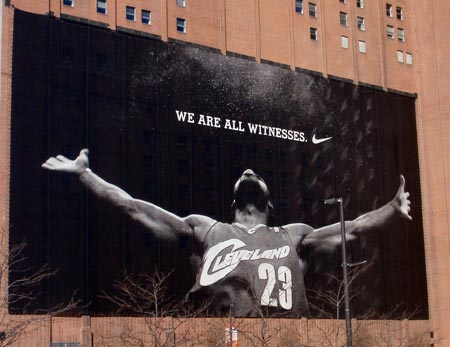 And just to keep it factual, where the phrase, "we are all witness" comes from is in fact, the Bible…Matthew 7:7-8 to be specific:
You killed the author of life, but God raised him from the dead. We are witnesses of this.
That's arrogance. That's a lack of humility. That's asking for attention. But, that's been Lebron's M.O. since the beginning.
One of the wonderful things about sports, is history. We can see what's happened before us. We saw Jordan work on his game. Hone it. Make it better. We were witness (pun intended) to his attempts at dominating the existing regime of Magic, Dr. J. and Bird.  We were witness to his dismissing of would be challengers like Clyde, Malone, Barkley, Ewing, Payton, Hardaway and others. We saw him struggle to beat the Pistons. Twice he faced them. Twice he lost…until finally he overcame them. Throughout it all, we didn't see Jordan complain or whine or give the Bulls the impression he might leave. He didn't hold them hostage. He didn't quit on Chicago to join the Lakers, Celtics, Knicks, etc. so that he'd have an "easier" path to a title. He didn't look to create a "big 3." No. Jordan earned it. Then again, Jordan isn't a millennial. He had that 80s work ethic in him.
Look back on Jordan's 6 titles. He didn't have an easy path. There was no Derrick Rose blowing a knee. No refs gifting a game when Rondo scores 40+. Jordan faced tougher competition, in a more physical NBA and dominated. Keep in mind he didn't dominate once…oh no…he retired, took a year and half off, came back and still dominated. He retired again and still dropped 40 points while playing for the Wizards at the age of 39. When Jordan came back a second time, he didn't join the Spurs or the Lakers to get an easy title. He joined the Wizards. Are you kidding me, the Wizards?
Nothing Jordan did was easy. He never took the easy path. And that's why we love him. And it's also why Lebron is so polarizing. Never has someone so gifted (and make no mistake LBJ is gifted) chosen to take the easy path…the paved road, at every turn and opportunity.
Lebron may have a ring, but he didn't earn it; you could argue he bought it. He's no Jordan. Not in concept. Not in actions. Not in accolades. Just so you don't think this is just theory, here's reality:
This isn't about Michael Jordan. But, yet, it is. This is about what we should expect from our heroes. We should expect that they don't take the easy way out. We should expect that they have humility. We should expect that they fight their way through the gauntlet and earn their successes. It's why we love and revere Manning, Armstrong, Jeter (even though he's a Yankee), and Duncan. It's why so many people are pulling for Tiger…we want to see him walk through the fire and find redemption. It's the time you put into earning your successes that makes someone legendary.